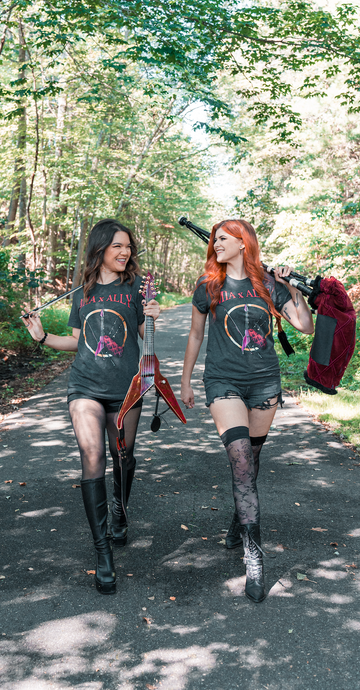 Mia x Ally
'Mia x Ally' is the electrifying duo project of electric violinist Mia Asano and bagpiper/multi instrumentalist Ally the Piper. With a combined following of over 6 million people, both musicians officially joined forces in April 2022 after discovering their love of performing together, and a number of their duo videos resulted in viral online demand for their continued collaboration. Playing both original songs and covers of pop rock and metal music with a celtic twist, Mia x Ally made their debut in Boston in August of 2022, playing two sold out shows and later went on to tour the East and Midwest on the "Shipping up to Boston tour" named after their viral cover of the Dropkick Murphys classic. The two are currently working on their first full length album together to be released in October 2023. The pair have been recognized by Dragonforce, The Charlie Daniels band and Metallica for covering their music.
Finding a shared desire to bring their unique instruments to the forefront of metal, rock and pop music, Mia x Ally care deeply about breaking boundaries encircling two instruments rooted so deeply in tradition. Both being classically trained musicians from a  young age, the two share a dream of showcasing the vast range of their instruments' capabilities that span multiple genres and techniques.
Watch their videos!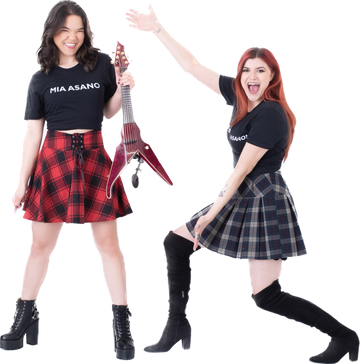 Mia Asano
Mia Asano is an electric violinist from Denver, Colorado. Classically trained from the age of five, she developed a love for alternative styles of music early on and plays a variety of music styles including rock, pop, metal, electronic and celtic music on a seven string electric violin. She graduated from the Berklee College of Music as a dual major in violin Performance and Professional Music (with concentrations in business and songwriting,) in August of 2022.
Asano has had global success with her viral  covers and has translated that to her live shows, collaborating with artists and friends such as Lindsey Stirling, Dragonforce, Tina Guo, Kiki Wong, MALINDA, Grace Kelly, Leo P, Avi Kaplan, the Red Hot Chilli Pipers, and going on a sold out duo headliner tour with viral bagpiper Ally the Piper in April 2023. She most recently performed at Wacken in Germany with Two Steps from Hell and is joining them as the featured violinist on their 2023 European tour.
Though she has a love for classical music, Mia's true joy comes from playing her electric violin. Her biggest inspirations over the years have been violinists in all genres of music and she believes wholeheartedly in breaking boundaries and sharing every aspect of what the violin is capable of, as well as helping people and spreading positivity through music.
Learn more about Mia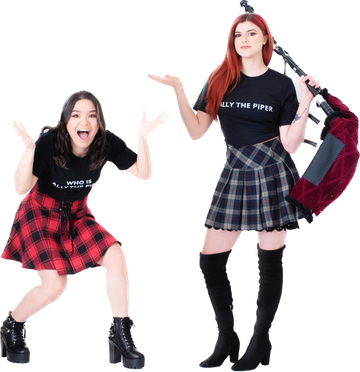 Ally the Piper
Ally the Piper, also known as Piper.Ally, is a musician and content creator who has gained a significant following of 3 million followers on various social media platforms. She is a multi-instrumentalist and vocalist, but is best known for her work on the Great Highland Bagpipe. She is particularly recognized for challenging traditional perceptions of the bagpipe, and for her ability to take the centuries-old instrument and make it relevant and appealing to a modern audience.
Ally began her career as a competitive bagpiper, starting off strong by winning the 2012 World Pipe Band Championships in Glasgow as a member of a youth pipe band. She continued to compete solo and was consistently ranked at the top of her divisions in the Eastern United States. However, in 2016, she decided to step away from competition to focus on her music career.
Since then, Ally has been actively working to break stereotypes about the bagpipes and introduce new audiences to the instrument. 
Learn more about Ally